Happy Spring! The sunshine and warm weather has made all of us Rigatonis happy.
On Thursday at our all-school meeting, we were so lucky to have Ted Scheu visit us at MBS. We heard some of his poetry and even got to write a poem as an entire school.
Ms. Burke then announced that we had filled Oscar! Today we had our all-school celebration, which was an extra recess.
In addition to earning a school-wide celebration, Rigatonis also filled our class jar. We voted on a class soccer game, which we will have sometime next week.
On Monday we will go to the Flynn to see Ty Defoe, an artist who shares Native American teachings through storytelling, dance, and music. Today, we had a special visitor from the Flynn come to our classroom. Together we discussed and explored some of what we will see on Monday. We danced and did some of our own storytelling with our classmates.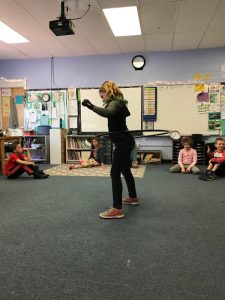 Happy Friday! I hope you all have a wonderful weekend.